I remember my family and I used to visit the Thai Food Bazaar that was held annually at One Utama Shopping Centre, KL and we would feed ourselves with their lovely laksa and desserts. The Thai sticky glutinous rice with mango was definitely a must for my sister and I.
It has been a few years since I last had it but since I had the opportunity to stumble upon the recipe, I knew I had to give it a whirl and satisfy this dormant craving for this dessert. :P It's a pity I didn't use fresh mangoes as they were not in season, otherwise it would be perfect. Had to resort to canned sliced mangoes. :(
Thai Sticky Glutinous Rice with Mango (Khao Niaow Ma Muang)
Recipe adapted from
Tan's Kitchen
.
Ingredients:
(Serves 2-3)
1 cup glutinous rice
3/4 cup coconut cream
1/4 cup sugar
1/8 tsp salt + 1/2 tbsp salt
1/4 tsp rice flour
Sesame seeds, for sprinkling
1 mango, sliced

Method:
Wash glutinous rice, then soak it for two to three hours or overnight. Steam it for 30 minutes.

Heat, on low, half of the coconut cream needed in a small saucepan and add sugar and 1/2 tbsp of salt until all dissolved.

Remove from heat and pour into cooked rice. Stir to mix well and set aside to let stand for about 15 mins.
Heat the rest of coconut milk and add salt. Stir until the salt is dissolved. This makes the topping sauce.
To serve, place sliced mangoes on a side of a plate. Spoon some seasoned sticky rice on the other side.
Top the rice with 1 or 2 tsp of coconut milk, sprinkle some sesame seeds and serve.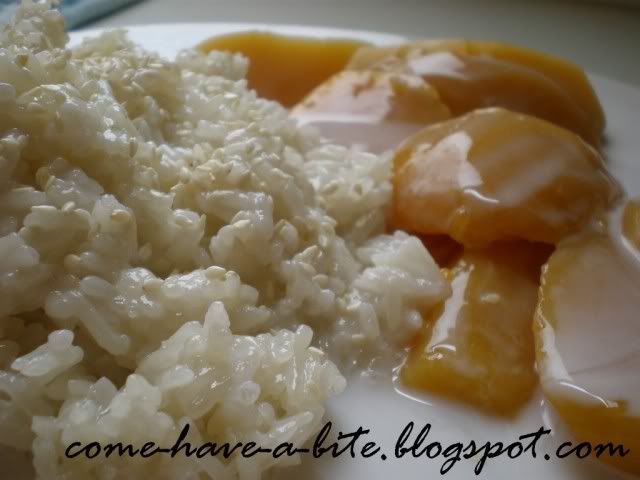 Why must coconut cream taste so good?