Bircher muesli is a combination of raw, whole grain flakes such as rolled oats or wheat, soaked overnight in either water or apple juice which was developed by famous Swiss physician Dr. Maximilian Bircher-Benner.

When I was much younger I was never a fan of oats but after stumbling upon this, I think I might be hooked. I was actually amazed at how something so simple could taste so yummy.

You know it's addictive when you seem to sneak one bite. And then another. And another.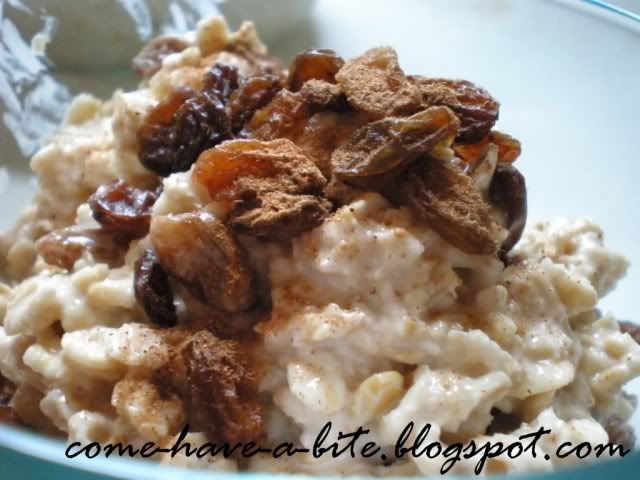 Ingredients:

2 cups of rolled oats
1 cup of fruit juice (I used apple juice)
4 tbsp of yoghurt
1 tsp of ground cinnamon
2 tbsp of dried sultanas or raisins
Chopped fresh fruits, to serve
Sugar or honey, to taste (optional)

Mix the oats, fruit juice, yoghurt, cinnamon and raisins together in a bowl. Leave in refrigerator overnight for the oats to soak up the juice. Add some fresh fruits or berries just before serving.

Oats can be soaked in advance and stored in the refrigerator up to 3 days.

I omitted sugar because I thought it tasted pretty sweet from the natural sugar of the juice and the raisins. The ratio of oats to juice can be modified to suit your liking. If you prefer something creamier like me, reduce the amount of juice. Add in more juice if you aren't into the creamy texture.

Now you've got yourself a healthy, delicious breakfast! :D

*Use rolled oats not quick cooking oats for this recipe.