What do you do when you bought a kilo of carrots for $0.50 from chinatown? Why, you bake of course!

I remember I said that I will never use the same recipe for carrot cake again as my previous attempt resulted in a dense, heavy, un-carrot-y cake. However, all the reviews received for this cake were positive so I took the chance and made it again.

It turned out well! It was VERY moist (a little too moist perhaps) and smelled very fragrant. Maybe I should cut down the oil next time to reduce moisture. You could see generous amounts of carrots as well. :D

Give it a try and give yourself a Bugs Bunny treat!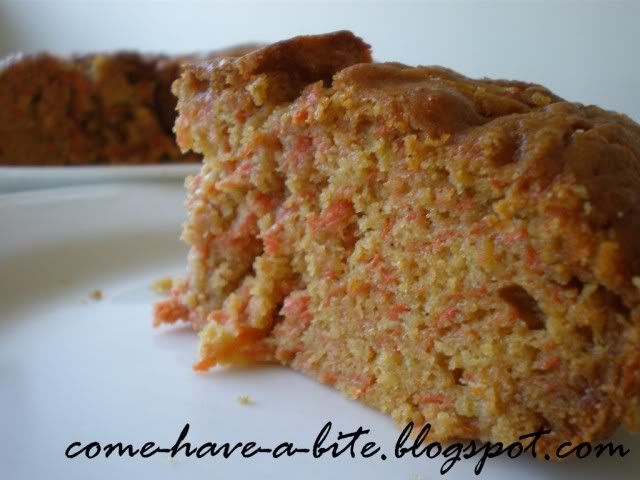 Recipe adapted from Fresh Living
Ingredients:
6 small to medium sized carrots, coarsely grated
1 1/2 cup all purpose flour
1 1/2 tsp baking powder
1 tsp bicarbonate soda
1/2 tsp ground cinnamon
1/2 cup brown sugar
1/2 cup oil
1/2 cup maple syrup
1 tsp vanilla extract
3 eggs
Instructions:
Preheat the oven to 170°C and grease a 9 inch round cake pan.

Sift the flour, bicarbonate soda, baking powder and ground cinnamon in a large bowl.
Mix the brown sugar, oil, maple syrup, eggs and vanilla in another bowl until combined.
Add the oil mixture to the dry ingredients and mix until just combined.
Fold in the grated carrots.
Pour the mixture into the pan and bake for 1 hour until a skewer inserted comes out clean.
Set aside for 5 minutes before turning onto a wire rack to cool completely.

You can opt to top it off with cream cheese frosting but the cake alone was good enough for me.