What better way to use up leftover dessicated coconut than to spoil yourself with luscious pandan pancakes with coconut filling. I have a fetish for pandan and gula melaka.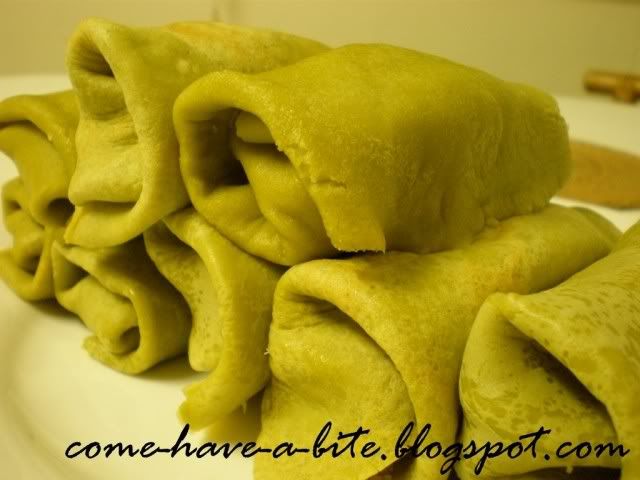 Ingredients
(Serves 4)
i) Crepe:
1/2 cup of all purpose flour
2 large eggs
1 cup of pandan juice
1 tbsp of melted butter
1 tsp sugar
pinch of salt
ii) Filling:
A:
1 1/2 tbsp sugar
140g grated palm sugar (Gula Melaka)
1 1/2 tbsp water
B:
140g dessicated coconut
1/2 tbsp cornflour mixed with 1 tbsp water
Method:
i) Filling:
Boil A to dissolve sugar. Add coconut, lower heat, stirring till almost dry.
Add the cornflour mixture and cook for 5 minutes. Allow to cool.

ii) Crepe:
Mix the flour, sugar and salt in a large bowl.
Add eggs, melted butter and the pandan juice to the flour mixture and stir.

Strain mixture into a jug to remove any lumps.

On low heat, pour mixture into a non-stick pan and swirl the batter around until a thin layer of pancake is obtained.

Flip the pancake when it is cooked. Do not overcook it as you do not want the pancake to be browned.

Put 2 tbsp of coconut filling and roll like you would the spring roll.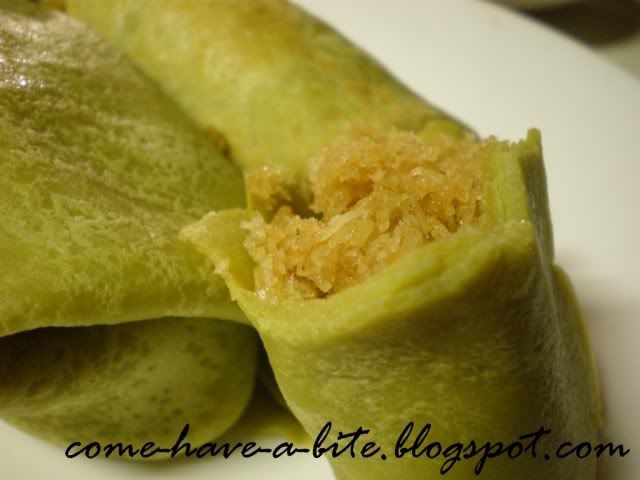 Pardon the horrible wrapping skills as I am still trying to master it. The recipe should provide extra filling but my housemates and I had no problems devouring it. ;)