I've always loved visiting pasar malam or literally translated as night market with my sister to get our hands on all the yummy snacks and delights.
I finally had the opportunity to try making one of the snacks popularly sold.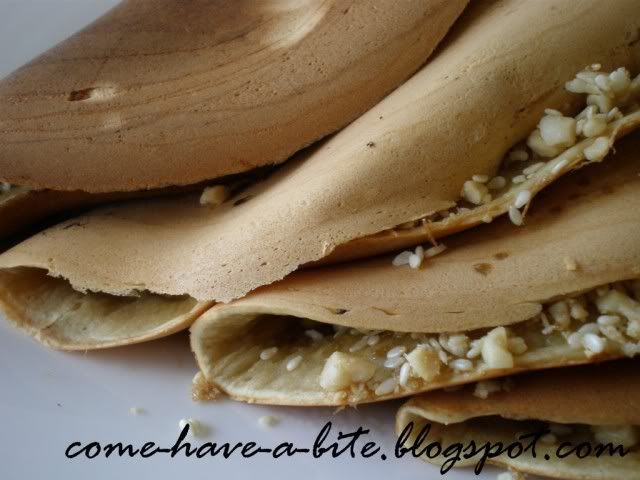 Recipe obtained from
Lily Ng
.
Ingredients:
(Makes about 6-10 depending on thickness)
1 egg
225 ml water
1 1/3 cup all purpose flour
2 tbsp sugar
1 tbsp milk powder
1/2 tsp salt
2 tbsp canola oil
1/2 tsp baking soda

Method:
Whisk the eggs, pour the water and keep stirring until it bubbles.
Fold in flour, sugar, milk powder and salt until the ingredients are combined. Then stir in canola oil. Leave to rest for 30 minutes.

Heat fry pan on medium heat. Add in baking soda and whisk well to combine.
Pour batter into fry pan which has already been warmed. Pour less batter if you want it to be thin and crispy. (I made mine soft and chewy)

Using the base of the ladle to swirl the batter in a circular motion so that the sides of fry pan has a thin coating of batter which will be crispy when it is done.

Cover the fry-pan with a fitting lid. Cook it until the surface has pores. Melt some butter on the ban jian kuih and dust it with sugar, crushed peanuts and sesame seeds.

Cover the pan again until well done. Fold it into half and serve onto plate.

*Alternatively, you can use buttery sweet creamed corn as filling.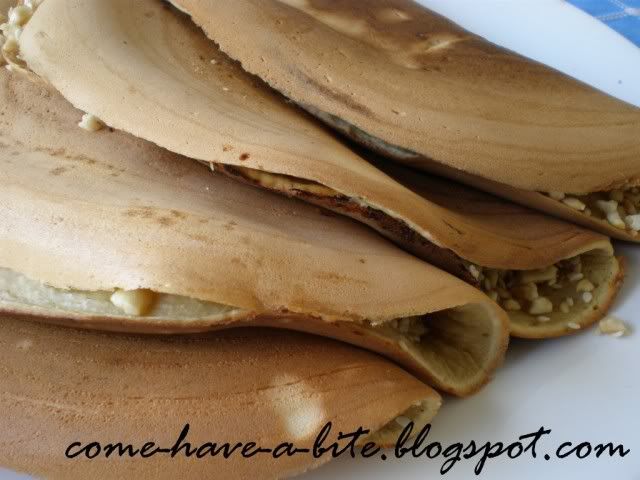 The key is to be VERY generous with your filling. From the picture you can tell I was being extremely stingy.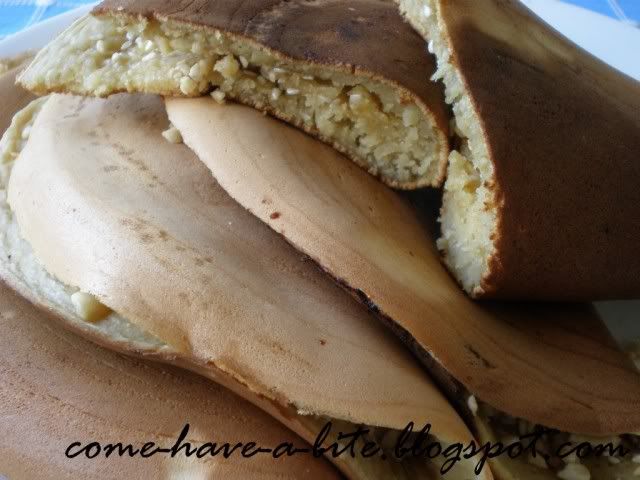 Extra, extra melted butter please! :D Oh, and I can imagine how yummy it would taste with buttery sweet creamed corn too.