I have never heard of snickerdoodles until recently. After all, they do not look like Snickers, neither do they look like any form of doodle.
Looking at the recipe, the steps are simple and I'm sure like everyone else, the ingredients are readily available in your pantry.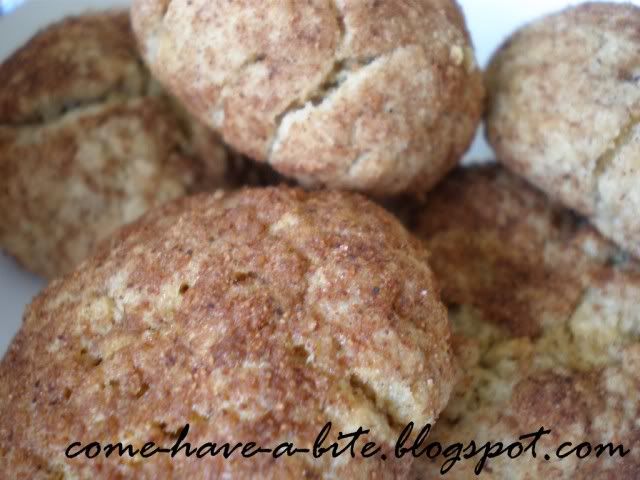 Recipe adapted from The Big Book of Baking.

Ingredients:
(Makes 10)
55g butter, softened
35g sugar
1 small egg
1/4 tsp vanilla extract
100g plain flour
1/4 tsp bicarbonate of soda
pinch of salt
1/4 tbsp sugar
1/2 tbsp ground cinnamon

Method:
Preheat oven to 190°C and line a baking tray with paper and chill it in the fridge.
Cream the butter and sugar together until fluffy. Sift the flour, bicarbonate of soda and salt into the mixture.

Slowly beat in the egg and add in the vanilla until just combined.
Wrap the dough in a clingwrap and chill in the refrigerator for 30 minutes or more.
In the meantime, mix together the sugar and cinnamon in a small bowl.
When the dough is ready, divide the dough into 10 and roll them into balls.
Roll each ball in the cinnamon mixture to coat and place on prepared baking trays, spaced well apart.
Bake in the preheated oven for 10-12 minutes, until it is slightly firm to the touch. Do not overbake.
Leave to cool on baking tray for 5-10 minutes, then transfer to wire racks to cool completely.
Be sure to check the oven often as snickerdoodles are meant to be chewy, not hard which can result from overbaking.
This recipe should result in a crisp, firm edge with a soft, light filling in the centre. For me it felt like I was munching on a cookie on the outside and eating soft cinnamon doughnut on the inside.
Best of both worlds! :D