I fell in love with it the first time I had it at Perth. The texture and taste is just so hard to describe yet they somehow harmonize each other so perfectly. My filo pastry, otherwise known as phyllo dough was quickly drying out in the refrigerator so I had to use it up quickly.
I tried to take pictures of the process but I had to work quick with filo pastry before it dries out. I omitted sugar in feeble attempt to be healthier.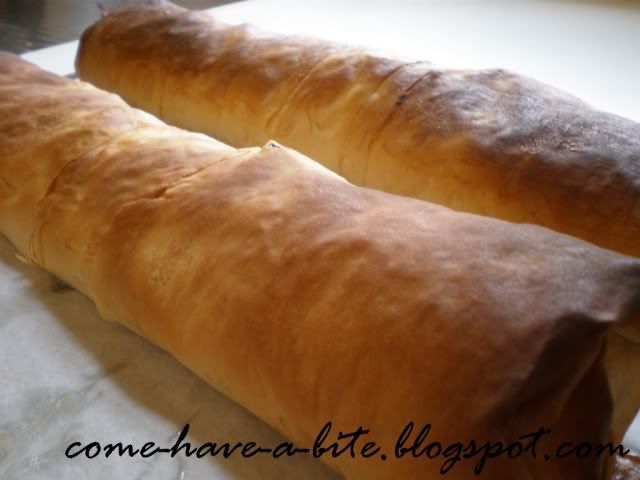 Fresh out of oven
Ingredients:
(Makes 2 rolls)
4 apples, peeled, cored and diced
2 tbsp lemon juice
1/2 tsp ground cinnamon
12 sheets filo pastry
melted butter

Method:
Preheat oven to 180°C and grease a large baking tray.

Place diced apples in a large bowl and drizzle with lemon juice to prevent browning. Add in cinnamon. Stir until well combined.
Place 1 sheet filo on a workbench. Brush with melted butter and top with another filo sheet. Repeat layers of filo and melted butter until you have 6 layers in total.
Spoon half of the apple mixture along one long edge of filo, leaving a 6cm border at both short ends. Fold ends in and roll up. Lift onto prepared tray. Brush top with butter.
Repeat with the remaining sheets and apple mixture to form the second roll.

Bake for 45 minutes or until pastry is crisp and golden. Allow to stand for 10 minutes. Dust with icing sugar.
Best served with vanilla ice cream or custard.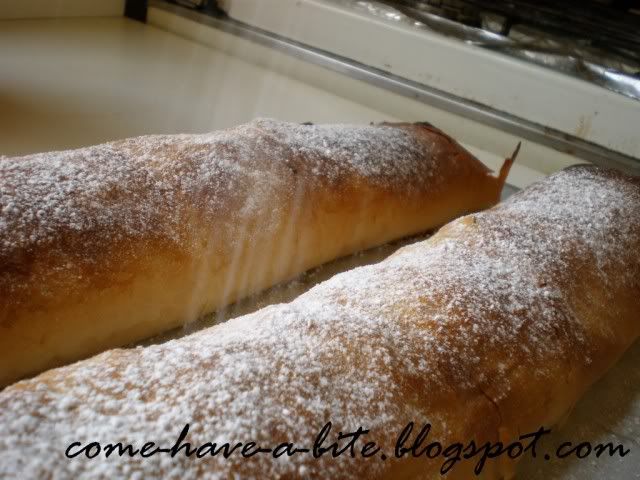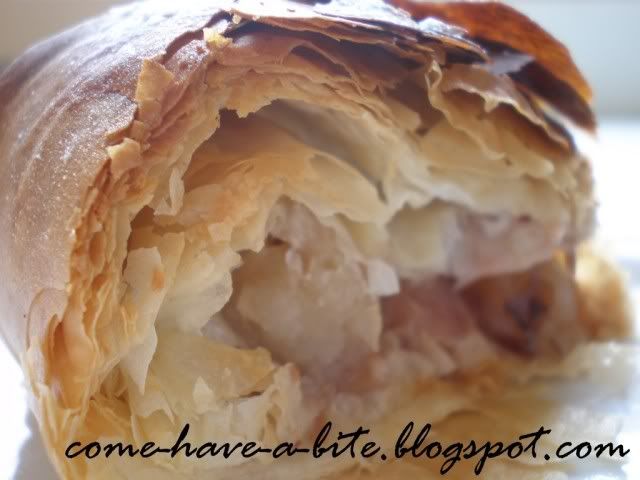 How do others wrap theirs so nicely? :(
I like the buttery layers of pastry but cutting the filo pastry resulted in a horrific mess with layers and shards of filo pastry flying everywhere! Anyone knows the solution to this problem?