Bananas are a fruit that I can't get enough of and it makes me wonder why some people don't like the taste of bananas. What's even better is baking using overripe bananas.

This is a recipe that I have done more than once and will definitely be doing over and over again. I love how the kitchen smells of banana! :D The mini ones are for taste testing and housemates. *evil smirk*

Banana bread. Banana cake. Call it whatever you want.

Ingredients:
(Makes 2 loaves)
Melted butter, to grease
1 3/4 cups all purpose flour
100g milk chocolate chips

3/4 cups brown sugar
3 tsp baking powder

1 tsp bicarbonate of soda
3 mashed ripe banana
1 cup milk
100g butter, melted
2 eggs, lightly whisked
Method:
Preheat oven to 200°C. Brush two 9 x 19cm (base measurement) loaf pans with melted butter to lightly grease.
Place the flour, chocolate bits, sugar, baking powder and bicarbonate of soda in a large mixing bowl. Stir until well combined.
Combine the banana, milk, butter and eggs in a medium bowl. Add to the flour mixture and stir until just combined.

Pour mixture evenly among prepared pans and use the back of a spoon to smooth the surface. Bake in preheated oven for 40 minutes or until a skewer inserted into the centre of the bread comes out clean.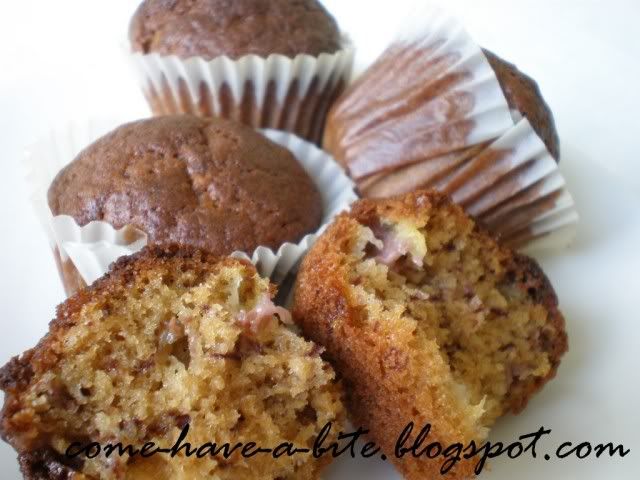 Banana and chocolate is a match made in heaven. I hope you'll love this as much as I do. :D
On a side note, I thought I'd throw in a picture of the most mutated strawberry I've seen in my life.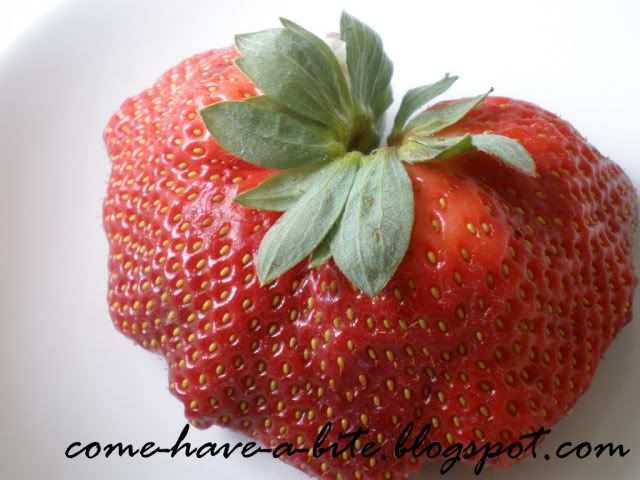 Do you have a mutated strawberry picture to share?