One of my favourite small dishes is definitely the Loh Mai Kai or Glutinous Rice with chicken. In this instance however, I used pork. The final product came out a bit too wet and the rice didn't have enough flavour but the marinade for the meat was perfect. Well, it is after all my first try.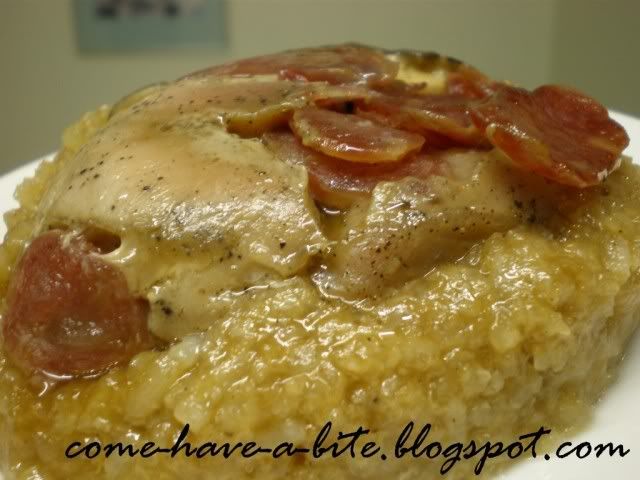 Recipe adapted from
Kuali.com
Ingredients
: (Serves 2)
125g glutinous rice

1/3 cup of water

75g pork meat

1 Chinese sausage (Lap Cheong), thinly sliced

2g black Chinese mushrooms, soaked

Seasoning (A):
1/2 tsp light soy sauce

1/2 tsp sesame oil

1/2 tsp oyster sauce

1/2 tsp ginger juice

1/2 tsp sugar

1/8 tsp pepper

1/8 tsp salt

1/4 tsp Shao Hsing Hua Tiau wine

1/4 tsp dark soy sauce

1/2 tsp oil

1/2 tsp cornflour

Seasoning (B):
1 tsp light soy sauce

1/2 tsp pepper

1/2 tsp sugar

1/4 tsp salt

1 tbsp oil

1/2 tsp sesame oil

1/2 tsp dark soy sauce

1/4 tsp Chinese five spice powder
Method:
Wash glutinous rice, then soak it for two to three hours or overnight. Steam it for 30 minutes.
Cut pork meat into slices. Marinate with seasoning (A) for about one to two hours or overnight.
Heat oil in and stir fry quickly mushroom and lap cheong then dish up. Add cooked glutinous rice and seasoning (B) and water. Stir fry well for five minutes.
Grease two medium-size rice bowls. Add mushroom, a few slices of Chinese sausages and seasoned pork slices. Fill up with glutinous rice and press down with a ladle.
Steam for 30-40 minutes. Turn over the rice bowl onto a plate and serve Loh Mai Kai.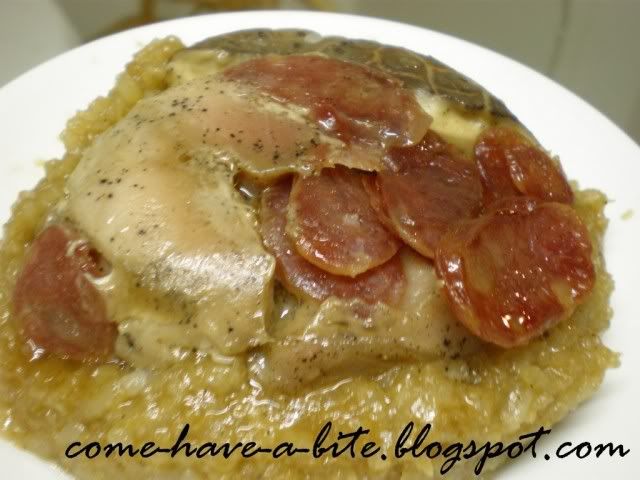 Hope this will turn out even more delicious for you. :)